It's wise to send the placemat to the visitors on the day before the meeting. It contains vital information for visitors and members alike. It enables visitors to prepare for their visit and they'll have a reference in their mailbox, in case the paper placemat gets lost after the meeting. Of course, members have the app.
During an online meeting, no more business cards are handed over. With help of the placemat:
visitors will be able to find the telephone number and company name of each member
visitors will be informed of the Trainings that are part of the membership*
visitors will note the Open Classifications*
visitors will see the upcoming names* for the Feature Presentations (an opportunity for themselves someday)
as always, the placemat will serve as Meeting Note Sheet.
* recommended to maintain on the front page (right panel) in Layoutserver.nl (registered users only)
Badges, table cards, feedback forms aren't needed online. For the current period, you'll need only the placemat in your PDF-output.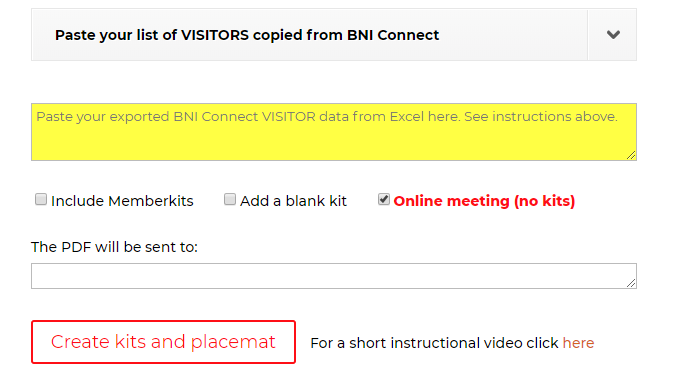 This is why a checkbox has been added to request just the placemat. As long as corona is still around, this checkbox will be enabled by default and is marked in red and bold to remind you of this feature.
We can't wait to default it to 'unchecked'! After that, we'll keep the feature because the stand-alone placemat -without the kits- is ideal to forward to the visitors.