Visiting a BNI chapter? Carry a proper badge!
If you're attending a network meeting, you're taking your business cards with you. What you probably don't have is a proper badge. The hosting organisation may provide you with one, but maybe they won't. In which case you'll end up using your business card by means of a badge. The size fits but that's about it. It's unreadable at talking distance. Make yourself more approachable and increase your communicability with a clear and inviting – but above all: readable badge.
Fill out the form, upload your logo and click the submit button. The name tag (or badge insert) will be emailed to you in seconds. There are now two layouts in this demo, you can cut out at will. Many badges were for BNI meetings so we include the refreshed BNI style (and you can add your own logo).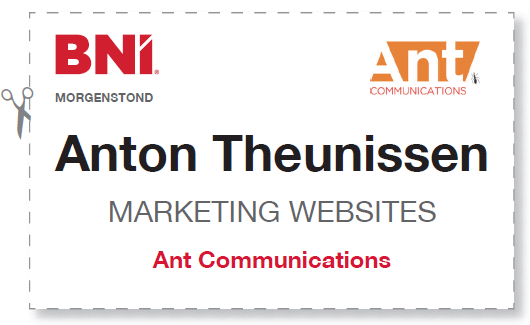 A small donation is always welcome but I'd rather see you taking a free trial for the Visitor Kits!
You have a great badge now.
Your visitors will be able to call you by your name. Did you know it's quite easy to make weekly materials for your visitors? They'll be impressed by your professionalism, they'll feel more comfortable and involved. And you'll be able to call them by their names too, even when they're seated behind their table cards in the same house style.
Read all about it on our Mission page or discover how easy it by clicking Create

https://youtu.be/uc_vr5ML5Lw